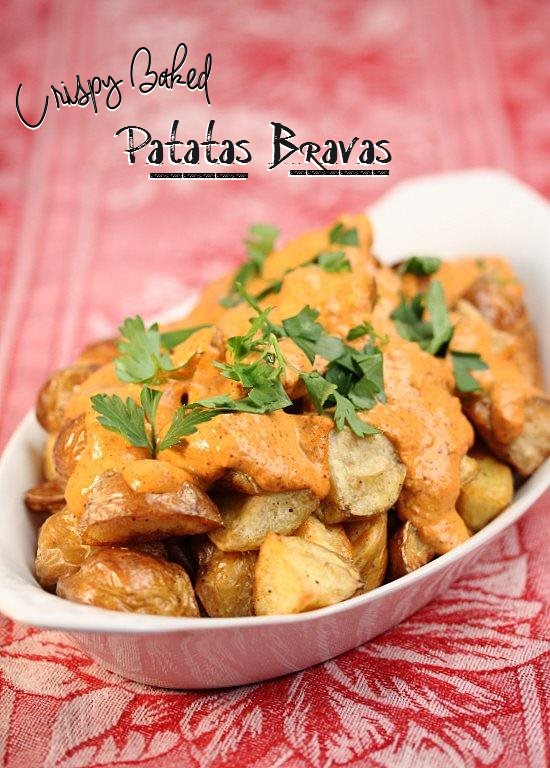 Last week I spent an inordinate amount of time working on a chilled sugar snap pea and mint soup. I worked and reworked the recipe, added ingredients, took away ingredients and no matter what I did, it just didn't taste right. I wanted it to taste bright and smooth and like spring and it was an epic fail.
This wasn't the first cooking fail I've ever had and I'm sure it won't be the last but every time it happens, it's pretty disheartening. Of course no one likes to fail, but after a little moaning and groaning, I started thinking about my successes rather than my failures. The most popular recipe on my blog is Garlic Parmesan Frites. For a long time I was surprised by this. I mean, they're just fries, people. But then again, that's just it – they're fries! Who doesn't love fries?
For the first 3 months of my pregnancy all I wanted were fries or some other kind of potatoes. I would dream about this tapas dish at a local restaurant made with cubed fried potatoes and smothered in a smoky paprika mayonnaise. They are called patatas bravas which means "fierce potatoes" and these puppies are fierce.
If you've checked out my post for garlic parmesan frites or crispy herbed roasted potato wedges then you know my 2 handy tricks for crispy potatoes in the oven sans fryer:
1)      Soak your cut potatoes in water for 30 minutes
2)      Line your baking sheet with parchment paper
Now the best part about this dish is the creamy smoky, slightly spicy sauce. I performed my other trick of subbing fat free Greek yogurt for the mayonnaise and blended it with onion, roasted tomato, garlic and plenty of smoked paprika. Seriously – you'll want to lick it off the plate. In fact, you may want to make some extra to use as a dip for veggies, chicken or just your fingers… Hey, I don't judge!
Crispy Baked Patatas Bravas
www.barbaracooks.com
Servings: 5 • Size: 1/2 cup potatoes w/2 Tbsp sauce • Weight Watcher Points+: 4
Calories: 155 • Fat: 4g • Carbs: 28g • Fiber: 4g • Protein: 6g
Sugars: 2g • Sodium: 109mg • Cholesterol: 0mg
Ingredients:
1.5 pounds yellow potatoes, cut into 1 inch cubes
1 Tablespoon + 1 teaspoon olive oil
1/4 teaspoon salt, divided
1/4 teaspoon ground black pepper, divided
¼ cup chopped red onion
2 garlic cloves, chopped
1 plum tomato, seeded and roasted*
1 teaspoon red wine vinegar
1 Tablespoon smoked paprika
1 teaspoon chili powder
½ cup fat free Greek yogurt
Dash hot sauce
1 Tablespoon chopped parsley
*To roast the tomato, spray with an oil spritzer or cooking spray and bake at 350 degrees for 20 minutes. This can be done in advance.
Directions:
Preheat oven to 425 degrees. Line a baking sheet with parchment paper.
Soak the potatoes in cold water for 30 minutes. Drain and pat dry. Toss with 1 Tablespoon olive oil and ¼ teaspoon each salt and pepper. Spread evenly on the parchment lined baking sheet and bake 30-35 minutes, tossing once halfway through, until browned and crispy on the outside.
Meanwhile, sauté the onion and garlic in a small skillet with the remaining 1 teaspoon olive oil. Transfer to a food processor with the roasted tomato, vinegar, paprika, chili powder, yogurt, hot sauce and 1/8 teaspoon each salt and pepper. Process until smooth.
Transfer potatoes to a platter and dollop the sauce on top. Garnish with parsley.
8 Responses to "Crispy Baked Patatas Bravas"