Everyone is all about kale lately. Kale chips, kale lasagna, kale salads; kale kale kale! You'd think someone had discovered a new miracle vegetable! Except kale is not new…
My father has been growing kale on and off over the years in his [crazy & maniacly huge] garden. We often ate it raw in a simple salad with fresh tomatoes, also from the garden. I was never a big fan of it this way as the fibrousness was difficult for my small mouth to chew and because the tomatoes were so earth-shatteringly delicious, they completely overshadowed the kale. Later I discovered that tossing the kale in a dressing about 15 minutes before serving helped softened it up just enough to be palatable.
Only recently, however, have I explored cooking kale. My mother loves cooked wilty greens and I always despised them. I never understood her penchant for turnip greens doused in vinegar but now I may have to eat my words. This garlic kale is cooked until just tender and I've added my pickled red onions to give them a bit of an acidic kick.
This is one of M's favorite dishes and every time I make it he fist pumps and says "Yes!" with a giant grin on his face. It's wonderful to cook for people who get that excited!
Garlic Kale with Pickled Onions
www.barbaracooks.com
Servings: 4 • Size: 1 cup • Weight Watcher Points+: 2
Calories: 93 • Fat: 3g • Carbs: 15g • Fiber: 3g • Protein: 4g
Sugars: 2g • Sodium: 438g • Cholesterol: 1mg
Ingredients:
2 bunches fresh kale (about 1 pound)
1 ½ teaspoons avocado oil (or olive oil)
1 Tablespoon crushed garlic
½ cup fat free chicken broth (or vegetable broth, if you want to make it vegan)
¼ teaspoon kosher salt
1/8 teaspoon black pepper
2/3 cup pickled red onions*, roughly chopped
*You can find my recipe for pickled red onions HERE.
Directions:
Using a sharp knife, cut on either side of the stiff woody rib down the center of the kale leaf to remove it. Discard the rib. Tear the leaves into bite-sized pieces.
Add the avocado (or olive) oil and garlic to a large pot. Place the pot over medium-high head. Cook, stirring occasionally, until the garlic begins to sizzle, about 5 minutes. Add the broth and bring to a boil. Add the kale and cover with a lid. Cook, covered, 7-8 minutes or until the liquid is absorbed and the kale is just tender. Be careful not to overcook. We want that kale still light and fluffy!
Add the salt, pepper and pickled onions. Toss lightly and transfer to a serving platter. Enjoy right away.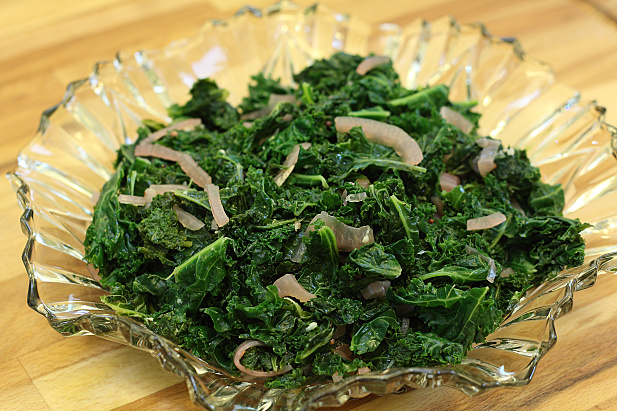 2 Responses to "Garlic Kale with Pickled Red Onions"